From June 5-10, 1967, Israel fought a short but impactful war commonly known as the Six Day War. Due to rising tensions in the region, Israel launched a series of attacks on Egypt on June 5, 1967. A ceasefire was signed on June 11, 1967. In what can only be described as a miracle, the Egyptian, Jordanian, and Syrian armies lost over 20,000 troops, while Israel lost 1,000. This war changed the course of Israeli and Jewish history, as Israel claimed more parts of Biblical Israel, including the Gaza Strip and the Sinai Peninsula from Egypt, the West Bank and East Jerusalem from Jordan and the Golan Heights from Syria.
Historian Dr. Chaim Shalem
Historian Dr. Chaim Shalem of the Samariam settlement community Ofra recalls yearning for the redemption of Jerusalem as a young boy. Born in 1946 in Tel Aviv, Shalem's older brother studied in Yeshiva in Jerusalem. His brother would point to Temple Mount and tell young Chaim, "that is our Jerusalem." This memory has stuck with him for his entire life, and even as a young student in high school, he dreamed of the day that Jerusalem would return to Jewish hands.
At age 18, all Israelis get drafted to the IDF. Shalem was drafted to the elite paratroopers unit. He completed his service, and only two weeks after being discharged from the army, he was called back to begin training for a military operation that would become known as the Six Day War. His unit had orders to jump over Sinai, but at the last moment, their commands changed, and they were rerouted to Jerusalem. Shalem called his parents from the outskirts of the city. That night, they received orders under the cover of darkness to take over the city streets between West and East Jerusalem. His commander encouraged them that this is exactly what they had been training for, and that they would certainly be successful.
Shalem's unit was transported by bus to where the zoo used to be. There were 2,000 uniformed soldiers and residents of Jerusalem. With that many people, it was impossible for their mission to be a secret. People were cheering them on, people were praying, the whole scene was surreal. Their command was to open Ammunition Hill and clear a path to enter Mount Scopus.  They were told that there would be 70 enemy soldiers on Ammunition Hill, but really there were 120-130. They blew up an enemy jeep, which lit up the area and destroyed their cover of darkness, and the Jordanian soldiers soon began to shoot at them. Chaim Shalem lost many friends that night.
Shalem recalls the struggle in great detail. The Jordanians were prepared, they knew the area, and they outnumbered the Israelis. Shalem says that his unit did not succeed because they were better soldiers. They survived and were victorious because God was watching over them. By morning, when the fighting died down, Shalem decided to lay tefilin, or phylacteries,  for morning prayers. A fellow soldier confronted him, asking why he was praying. Shalem convinced him to lay tefilin and say the morning prayers too. This soldier was Yehuda Kandel, who received recognition for his fighting that night. In 2002, Kandel tragically lost his daughter Yael and her husband Ayal Sorek in a terrorist attack in Karmei Tzur in the Judean Hills. Their names are inscribed on a memorial on Ammunition Hill.
At around 10:00 am, the soldiers gathered to leave the trenches. Only then did they realize how their numbers had depleted, and that all of their missing friends were either killed or wounded. After the battle, Shalem's unit headed north to the Golan Heights, and only returned to Jerusalem at the end of the war. Together with Motta Gur and the other paratroopers, Shalem's lifelong dream came true. He stood on Temple Mount and sang Israel's national anthem "Hatikva" with 1,600 other soldiers. Shalem recalls the verse from the book of Joel, "Judah will be inhabited forever and Jerusalem through all generations."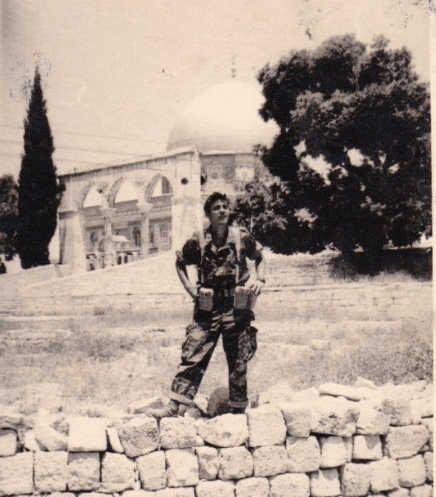 Chaim Shalem as a soldier on Temple Mount
Chaim Shalem has spent his time giving tours of Ammunition Hill and recounting the events of that night in June 1967. He recalls his friends, the fallen heroes, to whom we owe eternal gratitude for the reunification of Jerusalem. He tells of his friend Meir Malmoudi who was killed, as well as others. He remembers one tour, when an elderly gentleman said to him, "Can you please come look at my watch and tell me what time it is?" Shalem looks at the man's watch and says, "2:30." The old man replies, "I am Meir Melmoudi's father, and this is the only thing I have left of my son. The IDF returned it to me. This is my only watch. I wake up at 2:30, I go to bed at 2:30, if I go to a wedding, it's at 2:30." That day we all learned the true meaning of the expression "time stood still."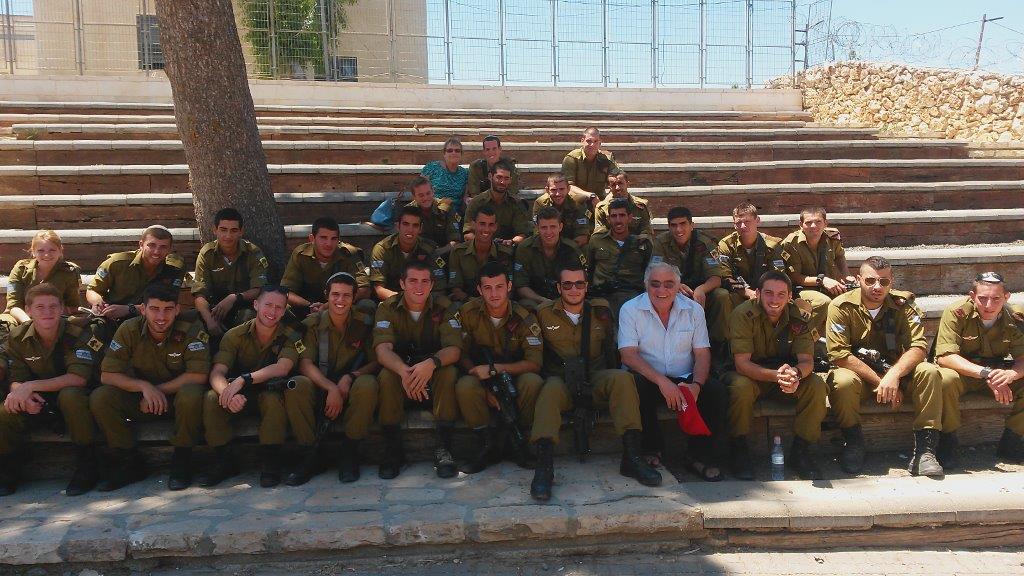 Chaim Shalem with a group of soldiers he's guiding
After the war, Chaim changed his last name from Meltzman to his chosen name Shalem, which is one of the 70 names of Jerusalem. He continues to give tours of Ammunition Hill, and he has educated thousands of people about the war and the significance of the unification of Jerusalem. "As long as I have the strength, I will continue to talk about it. The important thing is, Jerusalem is ours. We have missed Jerusalem for thousands of generations, and I am full of love for it [Jerusalem], and I hope that the Jewish people never turn their backs on it, and remember this great love."