"I will rejoice with the Lord; my soul shall exalt with my God … like a bride, who adorns herself with her jewelry." [Isaiah 61:10]
How many girls have imagined themselves in a lustrous white dress, bedecked with jewelry?  Indeed, the wedding industry feeds on such dreams and has commercialized a special day dis-proportionally.  Yes, weddings are a big money-making business, but this story is about a bridal salon determined to make a difference.
Nestled among the rocky hills in the heartland of Israel lies Barkan.  Established in 1977 it consists of about 500 families today. One of the drawcards of the settlement is the communal bridal salon, K'Shoshana.  And what makes this different from any other salon catering to eager starry-eyed brides?  Well how does a gorgeous wedding gown of your choice (including alterations), stunning makeup, spectacular hair-do, and a day of pampering sound? How about if I tell you it's all for free? For some.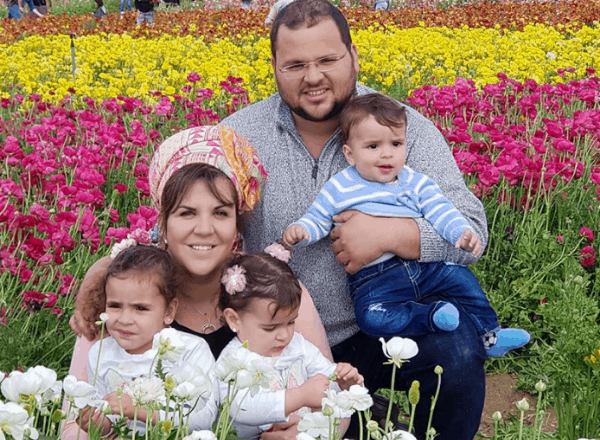 Allow me to introduce Batya Lasser, manager of K'Shoshana.  Together with her sister Chagit Ratzabi, she runs a communal bridal salon, opened in loving memory of their mother Shoshana Mesika, a true Eshet Chayil.
"Eshet Chayil" (Woman of Valor) is found in King Solomon's Book of Proverbs 31:10–31.  It is traditionally sung before the Friday night Shabbat meal to honor the woman of the home.
Shoshana, was well known in the Biblical hills of Samaria as a woman who could be counted on to help wherever needed.  One of her pet projects was helping young women from disadvantaged families prepare for their weddings. Many of these girls had no help –financial or emotional – and Shoshana would step in and cover whatever costs were needed, as well as provide moral and emotional support to make their special day memorable.
Batya fondly remembers helping numerous brides who found their way into her mother's heart and home.  She, her mother, and her sister Chagit would help these girls get dressed, do their hair and makeup, and even organize gifts of household wares and/or money when necessary.  Occasionally Shoshana would even take girls into her bedroom and eagerly offer them her own jewelry, scarves, etc. Anything she felt would enhance the bride's joy on her special day.  Each girl left feeling beautiful and taken care of.
Sadly, Shoshana's life was cut short after a heroic battle with melanoma – what a loss to the community and all who knew her.  Batya took Shoshana's death very hard and could not see a way out of the blackness of her grief. Her husband tried to encourage her to find a project that might distract her from her sorrow, and eventually she thought of opening a bridal salon that would also help needy brides, epitomizing her mother's generous and loving nature.
Following in their mother's footsteps, Batya and Chagit planned a social revolution – a communal salon – catering to brides from every walk of life, from every economic, political and cultural background.  A day of pampering would be offered at cost price to everyone. Those who could not afford even that, would not have to pay.
That's the beauty of the communal salon:  If you have it, you pay. And if you can't, you don't.  For economically disadvantaged brides, K'Shoshana subsidizes costs depending on the need.  Each applicant requires a letter from a Social Worker, Rabbi, etc. Thereafter an assessment as to the financial status of the bride is made, and the price determined accordingly.  In many cases, not only is a bride given a free package, but Batya fundraises for the couple, and offers them household items of high quality in order to help them set up their home.
Batya and Chagit named their salon K'Shoshana (like a rose) from King Solomon's Song of Songs 2:2.  The literal phrase is well known – "like a rose among the thorns".  And indeed Shoshana Mesika stood out like a rose among the thorny money-guzzlers.  As wedding costs swell beyond economic prudence, and many average income earners struggle to finance the glorious dream of a wedding to remember, K'Shoshana is there to help.  And how did the idea move from a dream to reality? Thanks to social media, one short Facebook message was enough. And the response was incredible.
"And who is like Your people Israel, one nation in the world…" [Chronicles 17:21]
Thousands of women from all over the country jumped at the opportunity to donate their dresses and bridal accessories to such a worthy cause.  It is indeed sad to think of a shimmering white dress delegated to years of abandonment in a lonely cupboard, after being such an essential element of the wedding.
Batya drove around the country collecting hundreds of magnificent dresses of the highest quality.  In an incredible stroke of Divine Providence, the bridal salon that Batya used for her own wedding, which had recently closed down, opened their generous hearts and sent Batya massive amounts of bridal items and accessories, petticoats, furniture and everything a salon would want, even sewing machines.
Born out of the desire to help their fellow Jews, K'Shoshana opened its doors in 2016 with a bridal package consisting of a high-quality wedding gown including any necessary alterations, makeup, hair styling, manicure and gel polish, as well as a relaxing jacuzzi and delicious breakfast.
As a communal salon, any proceeds earned at K'Shoshana are used for the needy brides for whom a wedding has the potential to create crushing debt.
Batya lives in Alon Moreh, but established K'Shoshana in Barkan, close to the main road crossing the Samarian hills, a location easily accessible to clientele from all over the country.  In a warm and relaxing environment, each bride is queen for the day. Since the financial status of each woman is confidential, brides mingle freely in the salon. For many of these girls every day is a struggle, but at least on their wedding day K'Shoshana provides a haven of beauty, pampering and fun.  Batya works as a volunteer at the salon – a legacy from her mother who raised her to always give to others.  She literally lives the time-honored mitzvah (commandment) of helping a poor bride get married.
"These are the things that have no limits, of which a person enjoys their fruit in this world, and lives upon their principal in the world to come: … performing acts of love and kindness; … providing for a couple about to marry…"  [Morning Liturgy Prayers]
Indeed, what could be more appropriate than an oasis of loving kindness on a hill in the heartland of Israel?  Dedicated to Shoshana Mesika – a woman with a huge heart, whose entire life was devoted to helping others. I cannot think of a more fitting tribute to such a special woman.
Any reader inspired to donate to this worthy organization can email Batya at [email protected].
(Mandy Gaziel participated in writing this article.)[/vc_column_text][/vc_column][/vc_row]